Well done ! That's the right answer.
Someone who is all talk and no trousers, talks about doing big, important things, but doesn't take any action.
Variants of the phrase are 'all mouth and trousers', or 'talk the talk but can't walk the walk'.
The phrase is primarily heard in UK.
French translation
beau parleur, grand parleur et petit faiseur, il parle beaucoup et agit peu
How NOT to translate : *il est fort en paroles mais sans pantalon
...................................................
Examples in context
'Mixed reaction in South Lakeland to NHS investment news
A GOVERNMENT announcement of plans for large-scale investment in the NHS has sparked a mixed reaction in the South Lakeland area.
"Our hospital buildings have been crying out for investment to build on the fantastic work of both the staff and the management team getting out Trust out of special measures."
But Westmorland and Lonsdale MP Mr Farron was bitterly disappointed no money had been allocated for WGI.
"This announcement is all talk and no trousers", he said.'
The Westmoorland Gazette, 6th Oct. 2019
............
'BORIS Johnson today pledged to protect Europeans living here after Brexit in a bid to establish his liberal credentials.
In his first Commons statement, the PM was challenged by Lib Dem leader Jo Swinson on the issue.
She said : "The three million EU citizens are our family, our friends, our neighbours, our carers. Yet, for three years, they have been made to feel unwelcome in our country.
"They deserve better than warm words and more months of anxiety. They deserve certainty now.
"The Prime Minister has made assurances, so will he back the bill of my Lib Dem colleague Lord Oates to guarantee in law the rights of EU citizens or is he all talk and no trousers ?"
The Sun, 25 July 2019
...................................................
Everyday usage
Mike says he'll go parachuting some day but he is all talk and no trousers.
Ann is all talk and no trousers, she keeps telling me about her hiking around the Mont Blanc, but I'm sure she's never been there !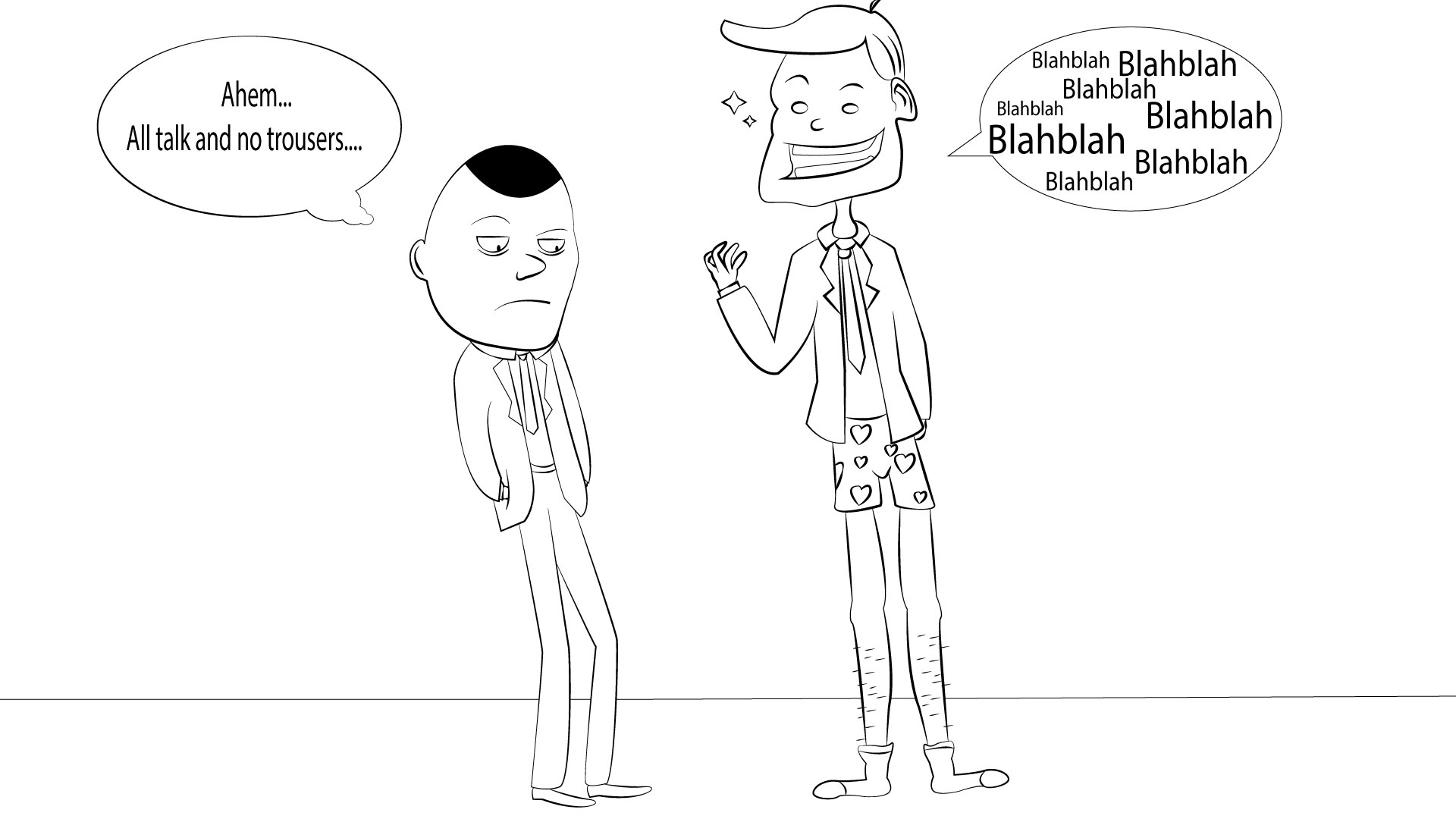 Sorry, wrong answer. Please try again.
Sorry, wrong answer. Please try again.
---
Missed last week's phrase ? Catch up here