Well done ! That's the right answer.
"cloud nine' refers to a feeling of extreme happiness or euphoria ; If you are on clound nine, you are feeling like you are floating on air.
Origin of the phrase
"An unlikely combination of a Victorian aristocrat and an international meteorology meeting 120 years ago led to a well known phrase describing a state of euphoria. In September, 1896, cumulonimbus, the greatest cloud in the world, was listed as Cloud 9 in a new cloud classification, and so to be on cloud nine became like floating on the tallest cloud on Earth." - Paul Simons, September 5 2016
French translation
être sur un (petit) nuage, au septième ciel, aux anges
How NOT to translate
*sur le nuage 9
...................................................
Examples in context
'From cloud nine to climate change, here's why you should always look up
THE sky has brought nothing but trouble lately – hurricanes, tornadoes, torrential rain. For good reason, people look up with wary eyes. On ordinary days, a pleasant wisp of white or a menacing thunderhead serve a more pedestrian preoccupation, a pragmatic barometer for how to dress or where to go.
Then there are those who gaze skyward for contemplation, even inspiration – especially when that azure canopy is tinted by white.
Whether they're streaking from horizon to horizon or floating in whiffs and puffs, clouds play large in our lives. They saturate our speech : Think of cloud nine. Our songs : Cue Joni Mitchell. Our literature, our art, even our geology is filled with clouds. What are some of the highest mountains in Colorado named ? Mount Nimbus, Stratus, Cirrus and Cumulus.
As Yeats wrote, "I know that I shall meet my fate somewhere among the clouds above.".'
Borneo Bulletin, 21 Oct. 2017
.............................
'Neymar puts PSG on cloud nine at Monaco
Edinson Cavani and Neymar were both on target as Paris Saint-Germain edged champions Monaco 2-1 to climb nine points clear atop France's Ligue 1 on Sunday.
But it was a frustrating night in the principality for the world's most expensive teenager, as Kylian Mbappe missed a raft of chances on his return to the club who will bank 180 million euros ($214.8 million) when his switch to PSG becomes permanent at the end of the season.
PSG now have 38 points from 14 games and are unbeaten, nine points clear of Lyon and Monaco, with Marseille one further adrift.
"We've won at the champions, that's good," said PSG coach Unai Emery. "Now we have to continue the work and improve further."'
The Daily Star, 27 Nov. 2017
...................................................
Everyday usage
He applied and after learning he had been accepted, was floating on cloud nine for the next three weeks and still is.
I have been on cloud nine for the last few days since France won the Davis Cup.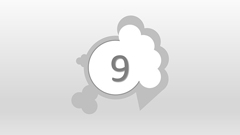 Sorry, I'm afraid it's the wrong answer. Please try again.
Sorry, wrong answer. Please try again.
---
Missed last week's phrase ? Catch up here