Sorry, wrong answer. Please try again.
Sorry, wrong answer. Please try again.
Well done ! That's the right answer.
If someone is going off half-cocked, or is going at half-cock he or she is speaking or acting thoughtlessly, without proper preparation, or too hastily. The phrase comes from the firearms context, in allusion to guns going off prematurely.
French translation
agir, foncer tête baissée
How NOT to translate : *exploser à demi-armé
...................................................
Examples in the press
'Local group planning to hand-make masks as local and national supply dwindles
"Wait, let's not go off half-cocked and produce a lot of masks that can't be used," said Miles. "We are really trying to do this the right way so we are effective.'
WSBT 22, 20 March 2020
............
'How Optimists and Pessimists Can Get Along
Opposites may not necessarily attract in business, but they can make your team a more productive whole.
…
How often do conflicts occur in your enterprise because someone proposed ill-considered or insufficiently thought-out ideas ? What about because someone opposed innovative, out-of-the-box ideas ?
As a result, both groups felt defensive and had negative relationships with each other. The optimists perceived the pessimists as naysayers who never allowed good ideas to go forward. The pessimists perceived optimists as always going off half-cocked and coming up with flawed efforts.'
Entrepreneur.com
...................................................
Everyday usage
Let's not go off half-cocked, we should discuss the matter before making any decision.
Once again, he's gone off half-cocked and it'll take months for people to calm down.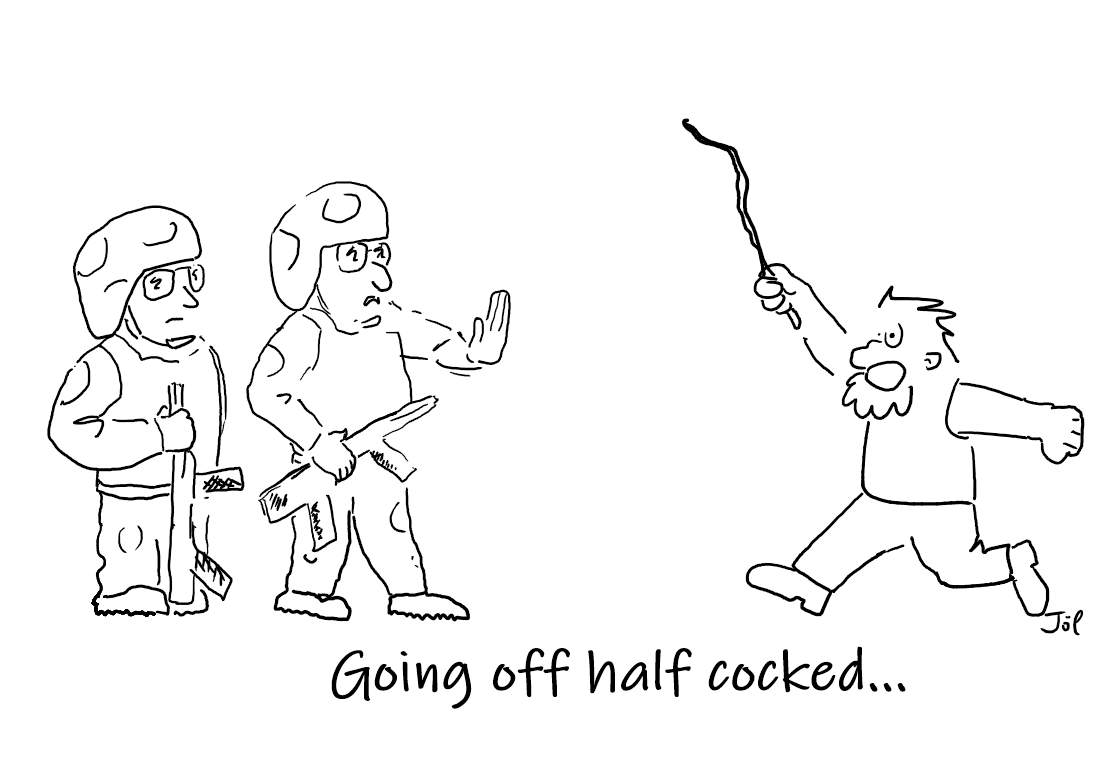 ---
Missed last week's phrase ? Catch up here