Well done ! That's the right answer.
'Get your ducks in a row' means complete your preparations, become efficient and well organised, ensure all details are accounted for before embarking on a project.
French translation
être bien organisé, se mettre en ordre de bataille
How NOT to translate : *aligner ses canards
...................................................
Examples in context
'Meghan Markle and Prince Harry Leave Canada to Spend Time in Los Angeles
Meghan Markle is back in her hometown.
A source confirms to E ! News that the Duchess of Sussex and Prince Harry recently left Canada and settled into a "large" home in the Los Angeles area. Meghan was born and raised in the City of Angels, and her mother, Doria Ragland, is a native Angeleno.
Following their split from the British royal family, the couple and their 10-month-old son, Archie Harrison, found refuge at a secluded property on Vancouver Island. Just weeks ago, Harry and Meghan recently traveled back to the U.K. to carry out their final official engagements, and their latest pitstop certainly indicates this family of three is eager for their fresh start to finally begin.
"They have started to look at homes online and are in the process of interviewing security teams. They are getting their ducks in a row and seeing if it's logistically possible".'
Enews, 26 March 2020
............
Australian Companies 'Get Ducks in a Row' for New Share Offers
Markets are bracing for a wave of new equity offerings in coming days as Australian public companies facing the novel coronavirus crisis race to refill fast-dwindling cash reserves.
Billboard agency oOh !media Ltd. and online travel agent Webjet Ltd. last week went to investors with terms for new equity, marking the first among what is set to soon be a much larger number. Excluding rights offerings, companies have about $1.2 billion worth of existing shares that began trading this year in Australia, heading for the strongest first quarter since 2015, according to data compiled by Bloomberg.
Bloomberg, 23 March 2020
...................................................
Everyday usage
I'm trying to get my ducks in a row before I apply for a new job.
Luc gave them some advice on how to present the plan to government ; how to approach and sell the product, and to ensure we have all our ducks in a row.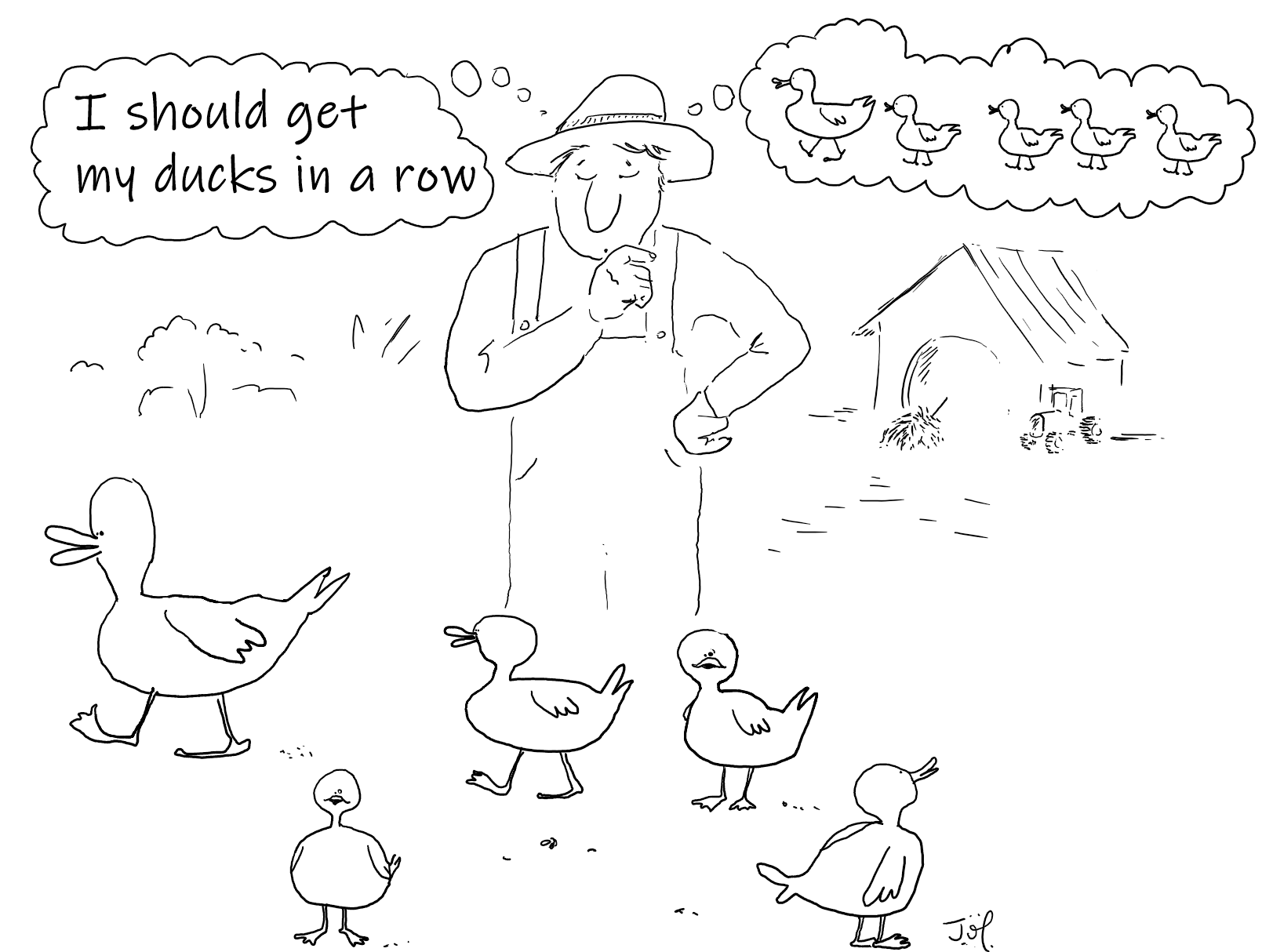 Sorry, wrong answer. Please try again.
Sorry, wrong answer. Please try again.
---
Missed last week's phrase ? Catch up here