---

Click below to listen to the phrase.

Choose the correct definition a, b or c.
Well done ! That's the right answer.
To be happy as a clam means to be very happy. There are two versions of this phrase. The longer version of the phrase, as happy as a clam at high tide [or water] explains very well why a clam would be "happy" in the first place.
Basically, clams are most vulnerable when the tides are low because that's the time when people can easily dig them up out of the ground. Hence, a clam is "happiest" during a high tide, or high waters, because it means they are less likely to be caught and eaten !
French translation
être aux anges, heureux comme un poisson dans l'eau, heureux comme un pape
How NOT to translate : *content comme une palourde
...................................................
Examples in context
'Andrew Kaczynski Serves As A CNN Publicist AND Reporter
Photo of Betsy Rothstein
CNN President Jeff Zucker must be as happy as a clam to learn that Andrew Kaczynski is working overtime as a CNN reporter and publicist.
Who knew Kaczynski was a such a multi-tasker ? All that and time for all those cat selfies and memes.
On Sunday, Kaczynski got into a dustup with Washington Post media writer Paul Farhi about why CNN's "Reliable Sources" media program had scant coverage of CNN's firing of President Trump surrogate and contributor Jeffrey Lord earlier this week. The network canned Lord after he tweeted a Nazi salute to Angelo Carusone, the head of the leftist PR arm of the Democratic Party known as Media Matters.'
The Daily Caller, 13 August 2017
.............................
'Radiohead at Primavera Sound : A show of collective force
Radiohead deliver a masterclass in crowd control, before Kiasmos unload both electro barrels
Next time a rioting mob needs quelling, don't deploy the water-cannons - instead, roll in the Radiohead. Despite arriving 45 minutes early for the band's festival set on the Heineken stage, there is not a hope of getting near to the stage, and yet even from this distance the band can reduce a crowd to total silence. Having battalions of fans who are happy to shush a festival crowd also helps.
...
The most endlessly overanalysed frontman in the world Thom Yorke seems happy as a clam, but between songs there's mostly silence as the band reset the template for the next favourite. There's a lovely moment after Karma Police where the crowd continue to sing back the chorus and for a minute there the band almost, almost lose themselves and roll back into it.'
The Irish Times, 4 June 2016
...................................................
Everyday usage
Having had nothing to eat for most of the day, I was as happy as a clam when I came home from work and my husband had prepared a feast for dinner !
Everything in my life seems to be going great ; I'm happy as a clam.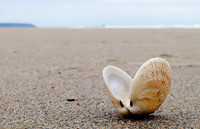 Sorry, wrong answer. Got you ! ;) Please try again.
Sorry, wrong answer. Please try again.
---
Missed last week's phrase ? Catch up here