---

Click below to listen to the phrase.

Choose the correct definition a, b or c.
Sorry, wrong answer. Please try again.
Well done ! That's the right answer.
To throw in the towel means to give up or quit something.
This idiom is said to come from boxing. Trainers throw the towel into the ring to signal that the boxer gives up.
French translation
jeter l'éponge
How NOT to translate : *jeter la serviette de toilette
...................................................
Examples in context
'Crewe Alexandra : Steve Davis tells his players to either stand and fight or go
Crewe Alexandra manager Steve Davis says any players who are not prepared to battle to keep their side in League One can leave, reports BBC Radio Stoke.
"We want people who are prepared to fight for the shirt," he said.
"If they're not, they can go. The one thing I want them to do is fight and for the first time this season there was a lack of that.
"Players were being allowed to run through unchallenged, and they were not winning their tackles. It's the first time I've seen some of them throw in the towel."'
BBC News, 4 April 2016
............
'Whatever Taoiseach does next, it will be with one eye on his legacy
Forget water charges, this is all about Enda Kenny now. Over the past five years, the Fine Gael foot soldiers sacrificed their reputations, their good sense and thousands of votes while defending Irish Water.
At the 2014 local elections, 105 of them surrendered their council seats - but the captain stood firm, arguing they were fighting the long game and would win through in the end. Now it appears he is willing to throw in the towel - and sacrifice 'middle Ireland' yet again - in order.'
Irish Independent, 26 April 2016
...................................................
Everyday usage
After our 15th attempt at this proposal, I think you'll agree it's about time we threw in the towel.
All the board members were slightly disappointed in him. He threw in the towel after only 2 minutes of his pitch.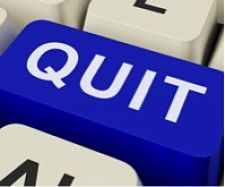 Sorry, wrong answer. Please try again.
---
Missed last week's phrase ? Catch up here