---

Click below to listen to the phrase.

Choose the correct definition a, b or c.
Sorry, wrong answer. Please try again.
Sorry, wrong answer. Please try again.
Well done ! That's the right answer.
"If you can't stand the heat, get out of the kitchen" is a phrase which indicates that someone who can't handle the pressure of a difficult position should not be in that position.
The phrase is said to have been coined by President Truman of the United States.
French translation
It seems fine to say in French :
Si tu ne supportes pas la chaleur, sors de la cuisine !
...................................................
Examples in context
'The Path-Breaker
Following the footsteps of personalities like Bill Gates and Michael Dell donating money to charitable causes, Manoj Bhargava, whose net worth is estimated at $4 billion, has pledged 99 per cent of his fortune to finding solutions that could save the world and his focus is on India. In this regard, Bhargava is out with its electricity-generating stationary bicycle.
I come up with a product and nobody wants to buy – this will be there. But it's part of that journey. And if you can't take that, there is a saying in the US that if you can't take the heat, get out of the kitchen. So if you can't handle that don't get into a business.'
Entrepreneur, 1 February 2016
............
'Lara Logan talks about Ebola, Egypt, war
Lara Logan is often asked if she is an adrenaline junkie. After all, the "60 Minutes" correspondent has reported from war zones while pregnant and has run to West Africa to cover the Ebola epidemic.
She said in the West African hospitals patients were split into two Ebola wards – confirmed and suspected. In the confirmed ward, people were medicated to ease the pain of dying.
Logan said at times it felt overwhelming and heartbreaking.
"That is when you say to yourself, if you can't take the heat get out of the kitchen," she said. "They don't need your tears."
Logan also spoke at length about reporting on the Egyptian Revolution in 2011. After being imprisoned, she returned to Egypt just in time for the resignation of Hosni Mubarak.'
The News Journal, 21 April 2015
...................................................
Everyday usage
This is a very tiresome project, and can be quite stressful, but if you can't stand the heat, then you should get out of the kitchen !
I talked to Sarah yesterday. She seemed annoyed by our upcoming strategies. I told her that if she couldn't stand the heat, then she should get out of the kitchen.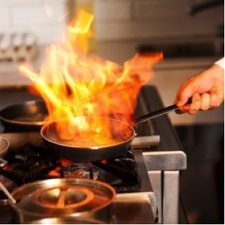 ---
Missed last week's phrase ? Catch up here