Well done ! That's the right answer.
'To speak one's mind' means to say exactly and clearly what one thinks, regardless of whether others will agree or not. The origin of this expression is probably to be found in Shakespeare's works. Speak your mind could be replaced by 'have your say' or 'say loud and clear'.
French translation
dire ce qu'on pense, parler sans détour
How NOT to translate : *parlez votre esprit
...................................................
Examples in context
'Game Gurus Speak Their Mind On Gambling, Addiction And The Future Of Esports.
The gaming industry is facing some hefty challenges that is proving to be a bitter pill to swallow. From the perennial addiction to the onset of gaming as a form of gambling, issues like these – and many more – will continue to hound the minds of some of the industry's seasoned names.'
International Business Times, 9 Sept. 2019
............
'Taylor Swift Isn't Afraid to Speak Her Mind — and Boyfriend Joe Alwyn Is Fully Supportive
Taylor Swift is using her massive platform to speak out on issues she's passionate about. Taylor Swift previously faced backlash for staying silent on political and social issues, but the superstar is no longer shying away from speaking out.'
We can think of a few puns involving several luxury brands names, but perhaps none quite as real - or costly - as the aforementioned 'Dolce & Banana'.'
People, 28 August 2019
...................................................
Everyday usage
I like people who speak their mind and are not afraid of saying something that you may not like to hear.
Mark is so shy, he doesn't speak his mind !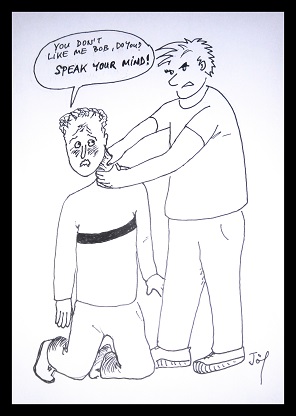 Sorry, wrong answer. Please try again.
Sorry, wrong answer. Please try again.
---
Missed last week's phrase ? Catch up here